1500V Air-cooled Battery Rack
---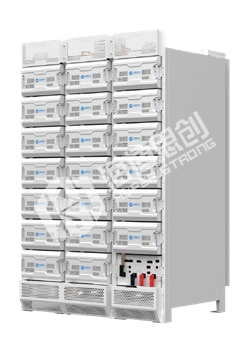 | | |
| --- | --- |
| Model | HyperA2-R358 |
| Battery cell | LFP-280Ah |
| Configuration | 1P400S |
| Nominal voltage | 1280V |
| Voltage range | 1120-1440V |
| Nominal capacity | 280Ah |
| Nominal energy | 358.4kWh |
| Charge/discharge rate | ≤0.5P |
| Dimension | 1365x1025x2285mm |
| Weight | 2650kg |
1500V Air-cooled BESS
---


| | |
| --- | --- |
| Model | HyperA2-C5734 |
| Battery cell | LFP-280Ah |
| Configuration | 16*1P400S |
| Nominal voltage | 1280V |
| Voltage range | 1120-1440V |
| Nominal energy | 5.734MWh |
| Charge/discharge rate | ≤0.5P |
| IP rated | IP54 |
| Heat management mode | Efficient & Intelligent Air-cooled |
| Dimension | 13716x2438x2896mm |
Avantages
---


Low CAPEX
Containerized BESS is scalable up to 5.73MWh. Integrated system design guarantees low CAPEX;
Complete FAT procedure optimizes field engineering service and cost.
Safety and Reliability
Independent and symmetric design of battery container greatly reduces the thermal runway risk of system;
Fan-free design of battery module reduces auxiliary power consumption of system by 15% and improves reliability.
Long Life Span
Design of battery container limits the temperature difference to 5℃;
Full-time equilibrium strategy improves system performance and extends the system life Intelligence and Efficiency.
Intelligence and Efficiency
Non-walk-in container design enables intelligent field inspection;
GWh grade scale application improves the efficiency of the whole station system.
高压风冷电池簇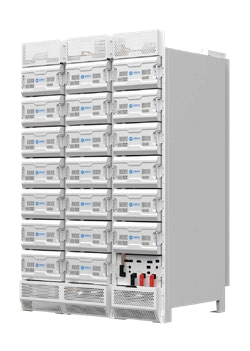 | | |
| --- | --- |
| 型号 | HyperA2-R358 |
| 电芯 | LFP-280Ah |
| 成组方式 | 1P400S |
| 标称电压 | 1280V |
| 电压范围 | 1120-1440V |
| 标称容量 | 280Ah |
| 标称能量 | 358.4kWh |
| 额定充放电倍率 | ≤0.5P |
| 尺寸 | 1365x1025x2285mm |
| 重量 | 2650kg |










高压风冷系统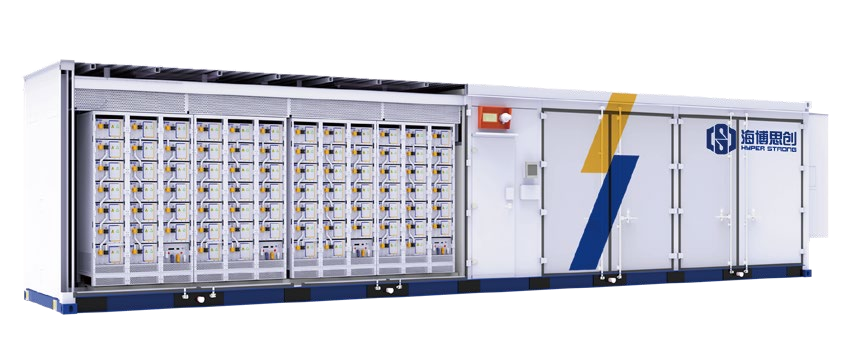 | | |
| --- | --- |
| 型号 | HyperA2-C5734 |
| 电芯 | LFP-280Ah |
| 成组方式 | 16*1P400S |
| 标称电压 | 1280V |
| 电压范围 | 1120-1440V |
| 标称能量 | 5.734MWh |
| 额定充放电倍率 | ≤0.5P |
| 防护等级 | IP54 |
| 热管理方式 | 高效智能风冷 |
| 尺寸 | 13716x2438x2896mm |
▶低初始投资
45尺单舱容量达5.734MWh,整站布置集约化
FAT预测试,大幅缩减现场安装调试时间和费用
▶安全可靠
电池舱独立对称设计,极大降低系统热失控风险
电池模块无风扇设计,系统辅助功耗降低15%并提升可靠性
▶长寿命
舱体专利风道设计,温差不超过5℃
全时均衡策略提升系统性能,延长系统寿命
▶智能高效
非步入式集装箱设计,支持现场智能巡检
GWh级规模化应用,整站系统高效