Liquid-cooled battery Rack
---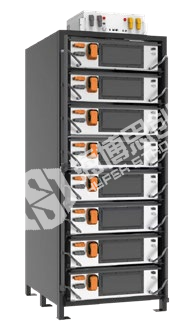 | | |
| --- | --- |
| Model | HyperL2-R372 |
| Battery cell | LFP-280Ah |
| Configuration | 1P416S |
| Nominal voltage | 1331.2V |
| Voltage range | 1164.8-1497.6V |
| Nominal capacity | 280Ah |
| Nominal energy | 372.7kWh |
| Charge/discharge rate | ≤0.5P |
| Dimension | 9255x1165x2450mm |
| Weight | 2750kg |


1500V Liquid-cooled BESS
---

| | | |
| --- | --- | --- |
| Model | HyperA2-C3354 | HyperA2-C6709 |
| Battery cell | LFP-280Ah | LFP-280Ah |
| Configuration | 9*1P416S | 16*1P416S |
| Nominal voltage | 1331.2V | 1331.2V |
| Voltage range | 1164.8-1497.6V | 1164.8-1497.6V |
| Nominal energy | 3.354MWh | 6.709MWh |
| Charge/discharge rate | ≤0.5P | ≤0.5P |
| IP rated | IP54(Battery Pack IP67) | IP54(Battery Pack IP67) |
| Heat management mode | Efficient & Intelligent Liquid- cooled | Efficient & Intelligent Liquid- cooled |
| Dimension | 6058x2600x2896mm | 12192x2600x2896mm |
Advantages
---


Low LCOS



Relative to air-cooled system, it decreases energy density by 30% and reduces footprint; the life-cycle discharge capacity of system increases by 20%;

The intelligent liquid-cooled temperature control system reduces auxiliary power consumption by 20% and saves the operation and maintenace cost.
Safety and Reliability
IP67 bilayer anti-flaming exposion-proof design, packet level-oriented fire protection;

Centrosymmetric layout design, mutual standby liquid chillers.
Long Life Span
Balanced liquid-cooled pipeline design limits the temperature difference to 3℃ and extends the battery life by 20%.

Intelligence and Efficiency
Full-time health monitoring and diagnosis of liquid-cooled system and early warning;

Cloud health condition evaluation and dynamic adjustment of energy efficiency management strategy.
液冷电池簇
| | |
| --- | --- |
| 型号 | HyperL2-R372 |
| 电芯 | LFP-280Ah |
| 成组方式 | 1P416S |
| 标称电压 | 1331.2V |
| 电压范围 | 1164.8-1497.6V |
| 标称容量 | 280Ah |
| 标称能量 | 372.7kWh |
| 额定充放电倍率 | ≤0.5P |
| 尺寸 | 9255x1165x2450mm |
| 重量 | 2750kg |


高压风冷系统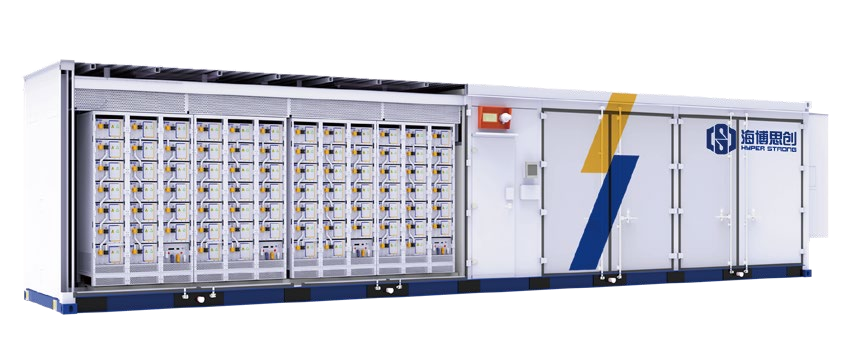 | | | |
| --- | --- | --- |
| 型号 | HyperA2-C3354 | HyperA2-C6709 |
| 电芯 | LFP-280Ah | LFP-280Ah |
| 成组方式 | 9*1P416S | 16*1P416S |
| 标称电压 | 1331.2V | 1331.2V |
| 电压范围 | 1164.8-1497.6V | 1164.8-1497.6V |
| 标称能量 | 3.354MWh | 6.709MWh |
| 额定充放电倍率 | ≤0.5P | ≤0.5P |
| 防护等级 | IP54(电池包IP67) | IP54(电池包IP67) |
| 热管理方式 | 高效智能风冷 | 高效智能风冷 |
| 尺寸 | 6058x2550x2896mm | 12192x2550x2896mm |
---
产品优势
低度电成本
相比风冷系统,能量密度提升30%,减少占地面积
智能液冷温控系统,辅助功耗降低20%,节约运营成本
安全可靠
IP67双层阻燃防爆设计,包级定向消防
中心对称布置设计,液冷机组互为备份
长寿命
同程均衡液冷管路设计,温差不超过3℃,电池寿命延长20%
优化电池调度算法,基于电池特性动态分配功率,降低电池衰减
智能高效
液冷系统全时健康监测诊断,极早期预警
云端健康状态评估,能效管理策略动态调整